NEWS: capita & autres, Priesterseminar Linz
 Eröffnung: 24. 9. 2024, 14 Uhr
Bischöfliches Priesterseminar der Diözese Linz, 1. Stock, Harrachstraße 7, 4020 Linz
Begrüßung und Einführung:
Michael Münzner (regens emeritus), Hubert Nitsch (Diözesankurator), Gerlinde Miesenböck
bis 7. Juni 2024 (Lange Nacht der Museen)
Mo - Do 8:00 - 15:30 Uhr, Fr 8:00 – 12:00
von 15.07. bis 31.08. vormittags von 08:00 – 12:00 Uhr
NEWS: botanica @ OMNEFEST 2023, Castelfranco Veneto/IT
"Botanica" bei 
INDEX NATURAE 
Villa Parco Bolasco
22. September– 29 Oktober 2023
curated by  Stefania Rössl & Massimo Sordi 
OMNE – Osservatorio Mobile Nord Est
Castelfranco Veneto
Villa Parco Bolasco e Museo Casa Giorgione

authors:
Lynn Alleva Lilley, Martin Amis, Paula Anta, Regina Anzenberger, Israel Ariño, Mattia Balsamini, Aurore Bagarry, Tim Barber, Jasper Bastian, Marijn Bax, Annamaria Belloni, Aladin Borioli, Barbara Bosworth, Anne-Lise Broyer, Simon Brugner, Michele Buda, Sabine Bungert, Jean-Marc Caimi, Tim Carpenter, Melissa Catanese, Dieter Daemen, Claudia den Boer, Stefan Dolfen, Matt Dunne, Mendia Echeverria, Tealia Ellis Ritter, Sibylle Eimermacher, Judith Engel, Philippe Fragnière, Jenia Fridlyand, Bernhard Fuchs, Peter Funch, Anne Geene, Malin Gezelius, Simone Gooch, Peter Granser, Saskia Groneberg, Yann Gross, Pea Guilmoth, Alex Hanimann, Jana Hartmann, Fujita Haruka, Derek Henderson, Sabine Hess, Bianca Hester, Nicolai Howalt, Samuel James, Gerry Johansson, Hajime Kimura, Rory King, Ville Kansanen, Franziska Klose, Irene Kopelman, Mariken Kramer, Ingar Krauss, Mona Kuhn, Robbie Lawrence, Jochen Lempert, Baptiste Lignel, Alex Llovet, Lilia Luganskaia, Janelle Lynch, Sandrine Marc, Morganna Magee, Tanya Marcuse, Lous Martens, Charlott Markus, Brian McSwain, Francesco Merlini, Harrison Miller, Gerlinde Miesenböck, Alyssa Minahan, Ann-Kathrin Müller, Katsu Naito, Tommy Nease, Francesco Neri, Drew Nikonowicz, Okuyama Miyuki, Yokonami Osamu, Giulia Parlato, Heleen Peeters, Andrea Pertoldeo, Valentina Piccinni, Klaus Pichler, John Priola, Augustin Rebetez Jake Reinhart, Anna Reivilä, Meghann Riepenhoff, Michael Romstöck, Costanza Santilli, Amanda Sauer, Jaap Scheeren, Hans-Christian Schink, Eugenie Shinkle, Joao Paulo Serafim, Shiraishi Shinichiro, Sara Skorgan Teigen, Donavon Smallwood, Massimo Sordi, John Spinks, Batia Suter, Siri Ekker Svendsen, Dániel Szalai, Kyoji Takahashi, Dominique Teufen, Oriane Thomasson, Awoiska van der Molen, Julie van der Vaart, Terri Weifenbach, Virginia Wilcox, Henk Wildschut, Jamie Yeo, Sheung Yiu, Saito Yoshinori, Hendrik Zeitler, Zindzi Zwietering
NEWS: "botanica" als Buch (Verlag Kettler)
Eine Hommage an die moderne Hauspflanze mit einem Text von
Martin Hochleitner.
Hardcover
180 Seiten
Juni 2022 
15 × 18 cm, de/en
978-3-86206-975-0
32  €
Erhältlich bei der Künstlerin und im Buchhandel
info@gerlinde-miesenboeck.com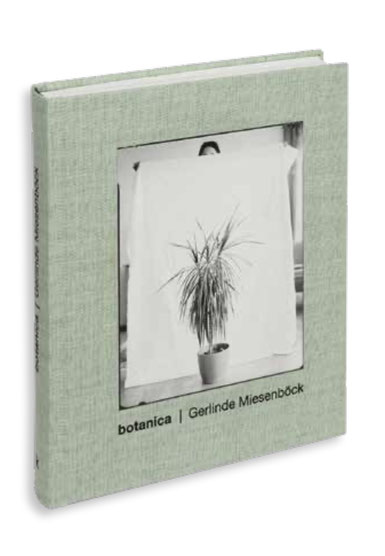 Die Hauspflanze, die so manchem Städter als Gartenersatz dient, erfreut sich seit einigen Jahren neuer Beliebtheit. Die einst als Inbegriff der Spießigkeit verschriene Schwiegermutterzunge etwa hat eine regelreichte Renaissance erfahren und längst ihren Weg von den verstaubten Amtsstuben der Republik in die Wohnzimmer der Hipster gefunden.
Im Rahmen ihres Projekts botanica inszeniert Gerlinde Miesenböck seit 2012 jene Hauspflanzen vor einem weißen Leinentuch, die als domestizierte Natur die Wohnungen ihrer Freund:innen bevölkern. Dabei erinnern die mit einer Großformatkamera erstellten Aufnahmen an historische Glasnegative, mit denen Wissenschaftler und Botaniker einst ihre Entdeckungen und Züchtungen dokumentierten.
In ihrer nüchternen Darstellung knüpft Miesenböck an die Ästhetik der Neuen Sachlichkeit und deren inhaltlich, formal, technisch und apparativ geprägtes Nachdenken an, vor allem an die zahlreichen Pflanzenaufnahmen eines Karl Blossfeldt. Durch ihre thematische Konzentration und formale Fokussierung erzielt Miesenböck so eine spezielle, weil auch typologische Wirkung des Motivs und spielt geschickt mit der anachronistischen Brechung ihrer Aufnahmen.
House plants have made a comeback in recent years, serving as a ersatz garden for urbanites. The mother-in-law's tongue, for instance, long spurned as a symbol of the petit bourgeoisie, is experiencing a renaissance and has long found its way from the stuffy offices of public-sector employees to hipsters' living rooms. For her project entitled botanica, which she began in 2012, Gerlinde Miesenböck has been photographing house plants against the backdrop of a white linen sheet. Taken with a large-format camera, her snapshots of this domesticated part of nature that she found in her friends' homes are reminiscent of historical glass plate negatives that were used by the scientists and botanists of yore to document their discoveries and cultivated species.Their plain setting recalls the aesthetics of Neue Sachlichkeit with its reflective approach in terms of subject matter, form, technique, and tools, as exemplified by Karl Blossfeldt's numerous plant photographs. Through her thematic and formal focus and her skillful play with the anachronistic refraction of the images, Miesenböck manages to create a peculiar effect, not least because her treatment of the motif constitutes a typology of sorts.
(Text & Foto oben: Verlag Kettler)